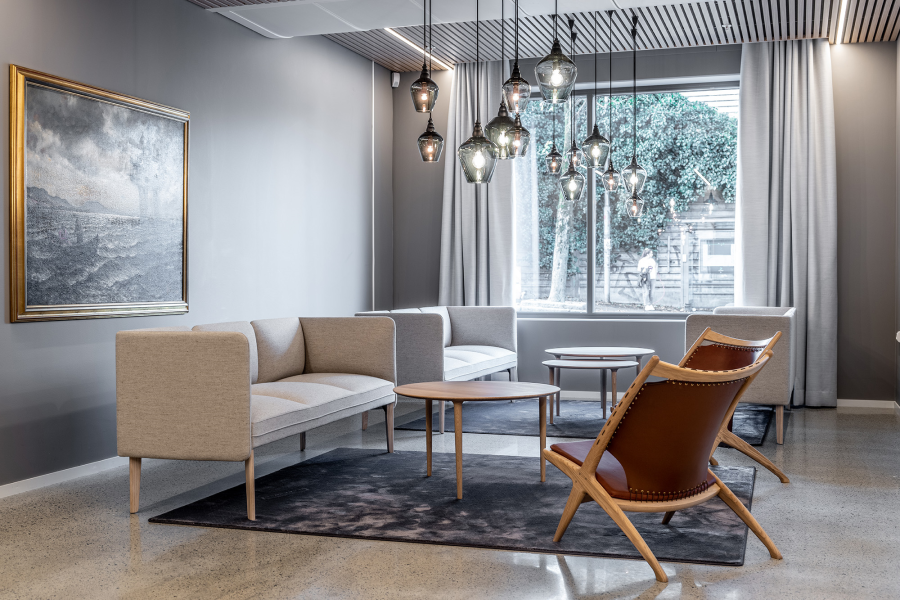 Eikund: History Repeats
Norwegian furniture company Eikund is making it their mission to re-launch Norwegian furniture classics and giving these iconic designs a new chapter in Norwegian design history. Founded in 2016 by Jørgen Tengesdel, CEO, and Morten Hippe, COO, the duo felt that something was missing within the Norwegian interior design market. Their shared vision of a company committed to discovering, preserving, and re-introducing Norwegian modern classics by the designers of the '50s and '60s inspired them to launch Eikund five years ago.
"We make mid-century furniture initially created by designers who have passed away," says Tengesdel. "We went on a treasure hunt and found these lost designers, and have revived them as a living legacy. The results are modern classic designs that seem freshly new today."
The name Eikund was taken from the island of Eigerøya on the western coast of Norway—the island's former name was Eikund. Eik translates to "oak", and Eikund means "Island of the Oak". For a long time, Eigerøya was lush with oak trees and the name suits the brand well because of what the name represents as well as the island's proximity to the factory.
"Our furniture is mostly made from solid wood, such as oak and walnut," says Tengesdel. "All of our materials—wood, leather, and textiles—are certified sustainable. The forests in Norway are growth-stunted due to the long, dark, cold winters. Therefore, we source our woods from Europe, predominantly Germany. Our leathers and textiles are also sourced from Europe, mostly the Nordic region."
Prior to launching their business, Tengesdel and Hippe spent a year crawling through attics, rummaging private and public archives, and soughing out expertise inland and abroad to access original drawings and information about each design. Eikund launched with the Veng arm chair, designed by Torbjørn Bekken in 1960 while working for the innovative interior design company Rastad & Relling Tegnekontor.
"The designers of the mid-century period that we are reintroducing give us self-esteem and show us that we come from great tradition, built on Norwegian values rather than a particular aesthetic," says Tengesdel. "There's a timeless feel to it—simple, but not pure minimalism, which can be exciting. It has texture and the right amount of detail. Our style is more artful, freer, and has a good dose of personality, with an accent of quirkiness that makes it quite bespoke in its aesthetic."
At ICFF 2021, Eikund will debut its new Hunter lounge chair. Originally designed by Torbjørn Afdal, one of Norway's most gifted furniture designers, the chair was one of his artistic highlights. Featuring clean lines, classic attributes, and comfortable design, FIrst Lady Jacqueline Kennedy and the Japanese Emperor are among those who purchased Afdal's design.
"We don't want to be the biggest; we want to be the best," says Tengesdel. "We are manufacturing furniture built to last for generations. We are not gearing up for large scale and production, but instead to expertly craft furniture of the highest value and integrity that will be classic treasures passed on over time."