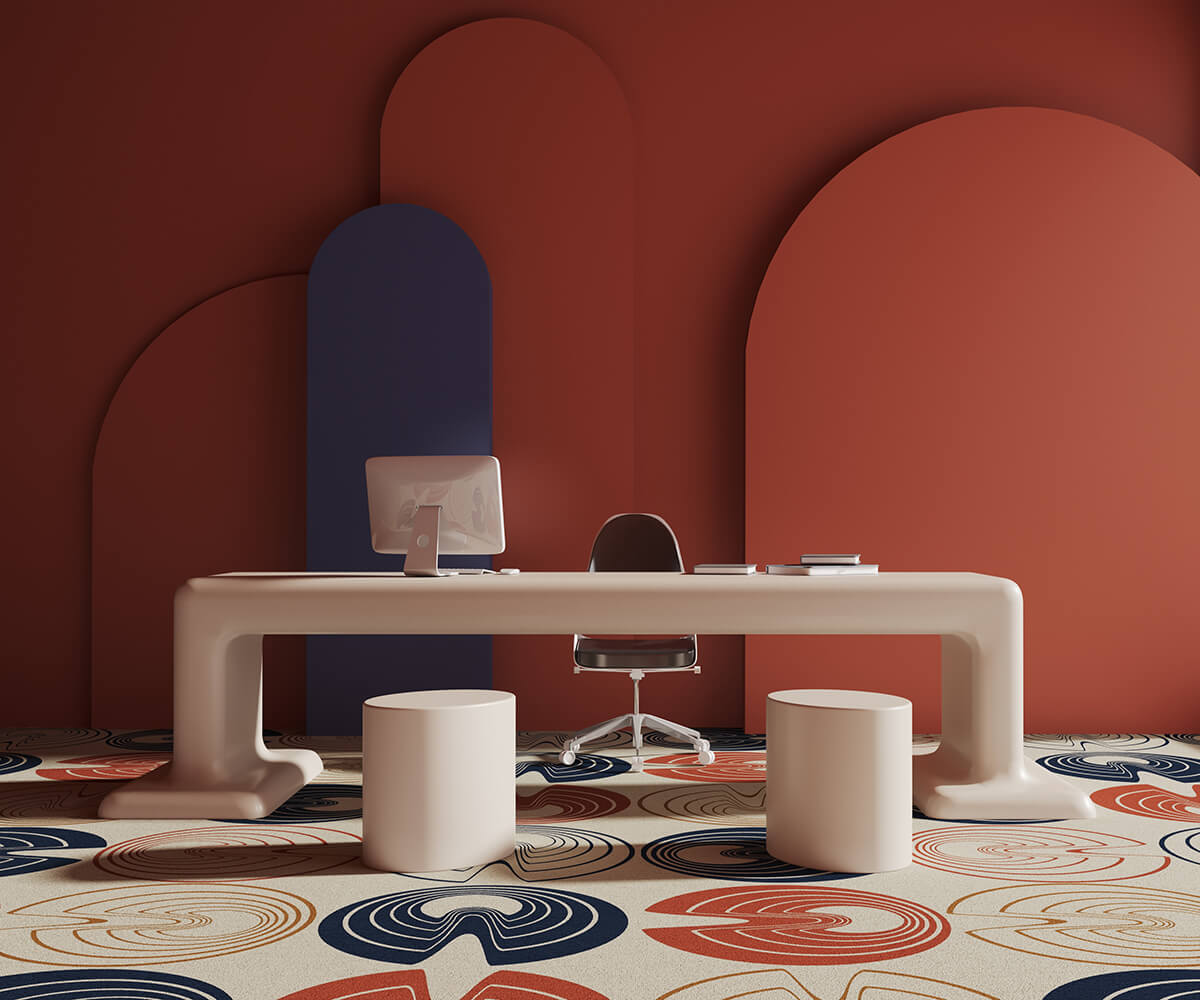 ege by Talk Carpet: Transatlantic
Ege Carpets was founded in 1938 by Mads Damgaard, a Danish entrepreneur with the unique vision to weave the traditions of arts and crafts into an industrial quality. Still based in Herning, Denmark today, the company has expanded to a group consisting of subsidiaries worldwide. In 2016 ege Carpets crossed the Atlantic and formed a partnership with Talk Carpet, allowing them to market and distribute their innovative products across the United States.
"Our main drive at ege by Talk Carpet is unique design and the constant goal to re-invent commercial carpets," says Christophe Rammant, creative director at Talk Carpet. "We are at the forefront of carpet design, launching new carpet trends through innovative materials, patterns, and colors. Our Scandinavian heritage gives us a significant advantage in sustainability and social responsibility, two values that have been inherent to our culture since long before these were hot industry topics."
As the industry's leading manufacturer of flatwoven carpets, a craft mastered well over 40 years, ege by Talk Carpet has found great success in the US market—especially in tech workplace design.
"At ege by Talk Carpet, we offer global collections designed in Denmark by in-house designers and marketed worldwide," says Rammant. "Collaborative collections complement these with well-established outside designers such as Tom Dixon and Christian Lacroix. What makes us truly unique is the addition of US-only collections, explicitly designed for the US market by our local Talk Carpet team."
Manufactured in Denmark in a state-of-the-art and highly automated factory, all products are ready for shipment within three weeks from order date, allowing the brand to be competitive with US-based manufacturers despite shipping. Total lead time is 7-9 weeks, which remains a fast turnaround in the world of commercial carpets.
"ege by Talk Carpet is one of the most flexible commercial carpet companies on the market," says Rammant. "All our patterned carpets are part of the Easy Recolor concept, which allows for the personalization of colors without minimum orders and without added lead times. If you want to go full custom, we have an incredible program where our in-house designers will bring your vision to life. To showcase the fantastic talent of our designers, we publish two new custom carpet concepts on our website talkcarpet.com each week."
To this day, ege Carpets is the only carpet manufacturer with a 100% Cradle to Cradle certified carpet range, which requires the manufacturer to become carbon neutral, use 100% renewable energy, and processed wastewater must, in principle, be clean enough to drink. Finally, the company must be assessed with internationally recognized social responsibility standards.
"We hit all fronts regarding the use of recycled materials by the widespread use of recycled carpet yarns and the incorporation of recycled water bottles in the carpet tile backing," says Rammant.
ege by Talk Carpet also maintains a commitment to keeping the design community connected and inspired. Since July 2021, they have produced a monthly magazine and travel series, focusing on a different country each month and exploring its beauty in design, art, and architecture.
"Coming out of the pandemic, it's a fascinating time for the design community where we play a crucial role in defining what's next in workplace and hospitality design," says Rammant. "We're working on tons of super innovative projects and carpet patterns with design firms across the USA."