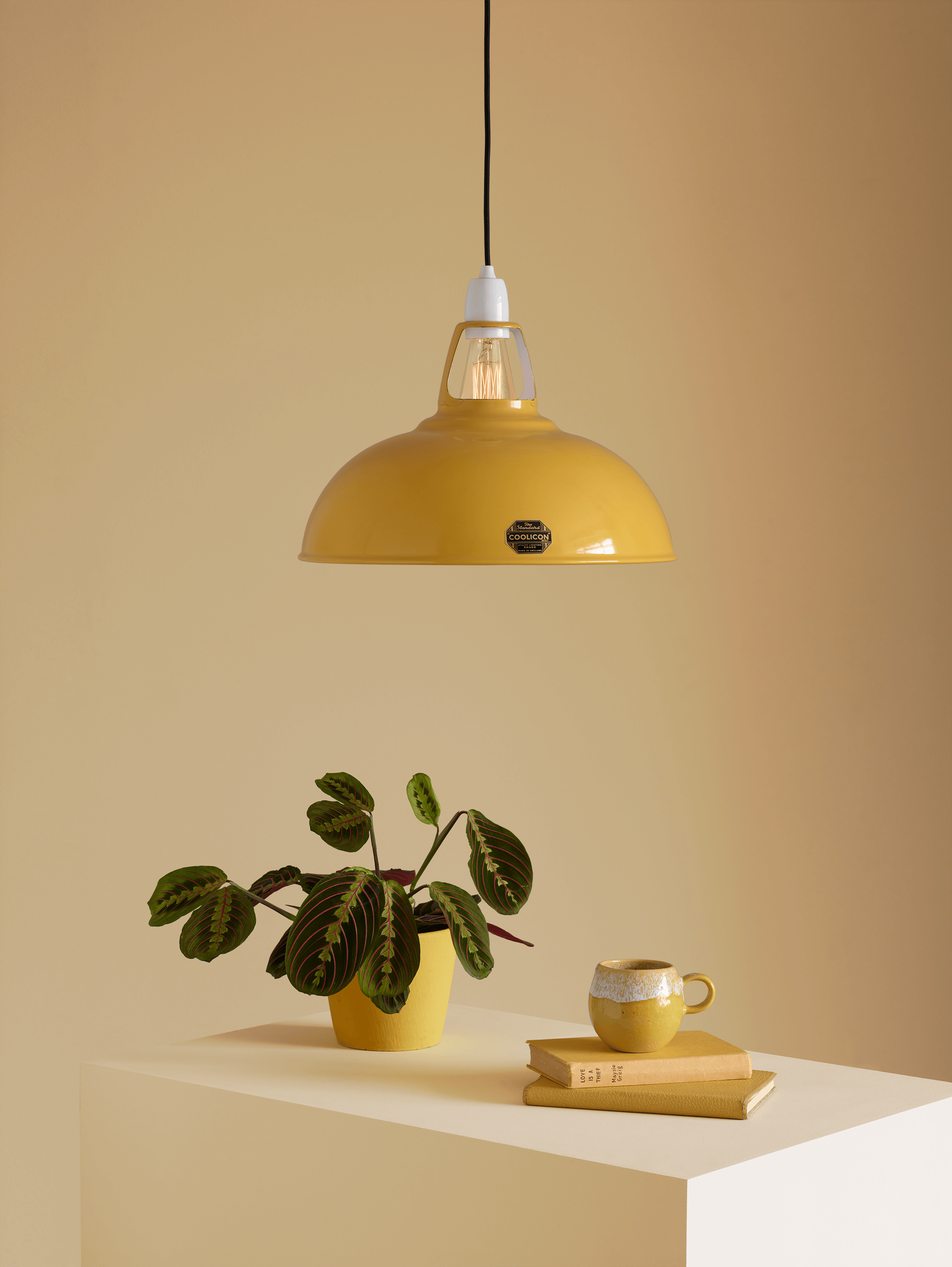 Brand Spotlight
Coolicon: Historically Contemporary
The Coolicon® lampshade is a piece of British history dating back to an industrial art deco Britain where hand skills and production were king. The industrialization of Britain during the Second World War saw Coolicon feature in all walks of life from factories to pubs. First patented in 1933, the Original Coolicon® shade soon became England's choice for factory lighting due to its functional bi-directional lighting design.
In 2013, Trent Jennings, Design Director at Coolicon Lighting Ltd, rediscovered a Coolicon shade made in the 1930s to the original design tucked away at the back of a dusty shelf in the Transport for London archives. Turns out, this was the shade that had been used by Winston Churchill, lighting the telephone exchange in his WW2 bunker hidden away within the London Underground tunnels. After years of research, Jennings became custodian of the Coolicon brand, reviving of the original 1933 design as first patented. The rest is history, so to speak.
"Now almost 90 years on, the Coolicon brand has surpassed the test of time and is now considered to be a design classic. We continue to use the traditional practices and time-honored techniques to handcraft these iconic shades to this day," Jennings says.
While Jennings says little has changed in the brand's handmade production methods, news colors and collections have been introduced. Case in point: "Looking to British tradition and culture for inspiration, a shared history between Coolicon shades and the world-renowned ceramic workshops of Stoke-on-Trent was uncovered, spurring a beautiful collaboration, resulting in our most refined shades yet, the Craftmans Collection. These shades are now produced in the potteries they once lit," Jennings says.
All of the brand's contemporary and new products are designed by Jennings himself. And Coolicon works with specialty craft workshops throughout the industrial heartlands of England to produce its traditional lampshades.
"Working closely with these skilled craftspeople, we embrace traditional craft materials and processes to inform our contemporary products. We take pride in the handmade nature of our products and the authenticity that comes with them," Jennings says.
The shades feature what the brand calls "makers marks"—that is, character marks that show the human influence in the products creation. "This is in contrast to many mass-produced products that are all identical due to modern tooling and automated processes. We believe these marks show the authenticity of the products and celebrate the skill of the craftsperson whose hands shaped them," Jennings adds.
Coolicon is a leading brand and producer of English Vitreous Enamel lampshades. A material born out of extreme conditions with strength to last decades, Vitreous Enamel is what gives the shades a deep color pigment and classic utility finish. Vitreous Enamel is a glass surface fused to a steel substrate at very high temperatures – over 800°C / 1500°F. But you won't see any red. That's because Coolicon's selection of Vitreous Enamel colors come from natural minerals and oxides. Red requires working with heavy metals to produce the color pigment.
"We strongly believe in keeping our customers, workers, and environments happy so red is not on our agenda," Jennings says.
From materials to the company ethos, it all leads back to Coolicon's heritage. "From the strength and longevity of Vitreous Enamel to the translucent qualities of Bone China, each material has been carefully curated to honour the original 1933 design and its British heritage," Jennings says. "With longevity at the heart of the brand, we believe the creation of authentic robust products that last generations is perhaps the most sustainable form of producing products."