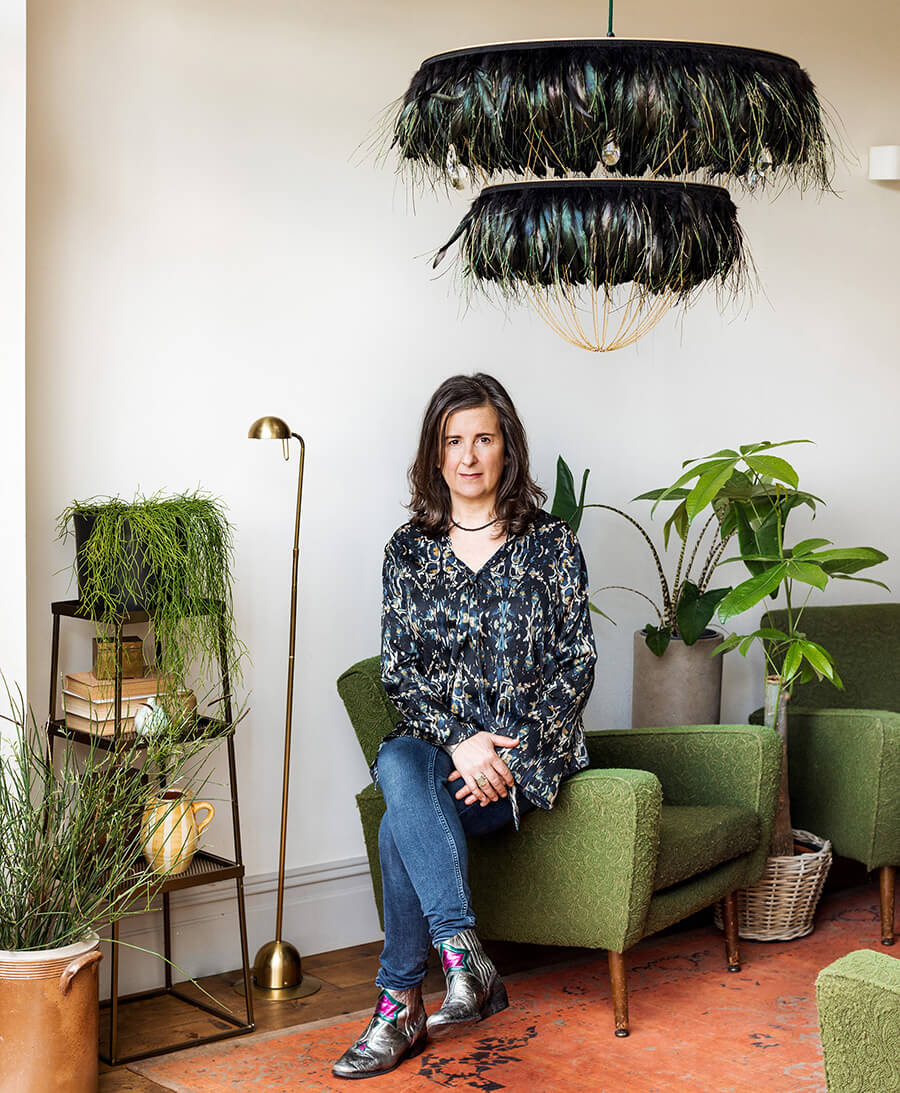 Coldharbour Lights: Dancing Through Light
First established in South London in 2017, Coldharbour Lights was founded by Lottie Davies, a native Londoner with family roots in southern Spain and western Wales. Named after Coldharbour Studios where the company launched, Davies officially started the brand with an installation for the Brixton Design Trail—a part of the London Design Festival. When she approached the interiors emporium Rockett St George and suggested they stock her feather shades, and they flew off the shelves, Coldharbour Lights officially came into fruition.
"When I was nine, my brother started his product design career in lighting design, so it's always been on my radar," says Davies. "As a child, I loved making things. I remember making a jack in the box with my dad using a cardboard tube and elastic bands. The ingenuity and simplicity of using elastic bands to create a spring-up movement hit an ever lasting chord for me. I am inspired by the intrinsic qualities of materials, it's my starting point."
Coldharbour Lights is a one woman venture, and as a result, Davies personality shines through her work. Having trained and worked as an actor, she found joy in bringing the sensibilities that she developed through theater into her lighting designs.
"There is a theatrical playfulness and a sense of these feather shades being active participants in their settings," says Davies. "The rhythmic swing of the chains, the madness of the movement of light through the crystals, and the softness of a breeze through the feathers are all tangible and interactive qualities. I can envision how actors or dancers could embody these elements on stage."
Since Davies hand makes every order she receives, she ensures that every piece is made to exacting standards with personalized investment for care and attention. In a world where mass production is the norm, she sees value in offering something personal and customized. A client can specify any detail or bespoke color, and Davies takes great care in making sure there is as little waste as possible. While each shade may be slightly different, Davies process of constructing the shades is more or less the same.
"Essentially the process is the bespoke dying and fine-tuned sewing of the best quality goose and hen feathers to make the beautiful fringes," says Davies. "This is all done in southern England. It has always been important to make these shades extremely light so installation is as simple as putting up an easy-fit shade. This has been achieved by employing the perfect engineering of a bicycle wheel rim, which forms the basis of the frame. This discovery came about as I was looking for ways to combine high-end luxury elements (feathers, crystals) with down-to-earth industrial elements. I enjoy these contrasts and the alchemy of transforming the humble wheel rim into an elevated object of desire and beauty."
At ICFF 2021, Davies hopes to launch her new range, the Rio Collection, which features huge feather shades that are over a meter wide and will be available in one, two, or three tiered models. Currently, she Davies is working on a fourth and final design for the Rio Collection—the three-tiered Coco, which will grace the huge space of a converted chapel in the Cotswolds, UK.
"The shades in the collection have the impact and volume of a centerpiece chandelier," says Davies. "Designed for hospitality spaces and larger scale interiors, the Rio Collection enjoys a stop-you-in-your-tracks sort of attention."