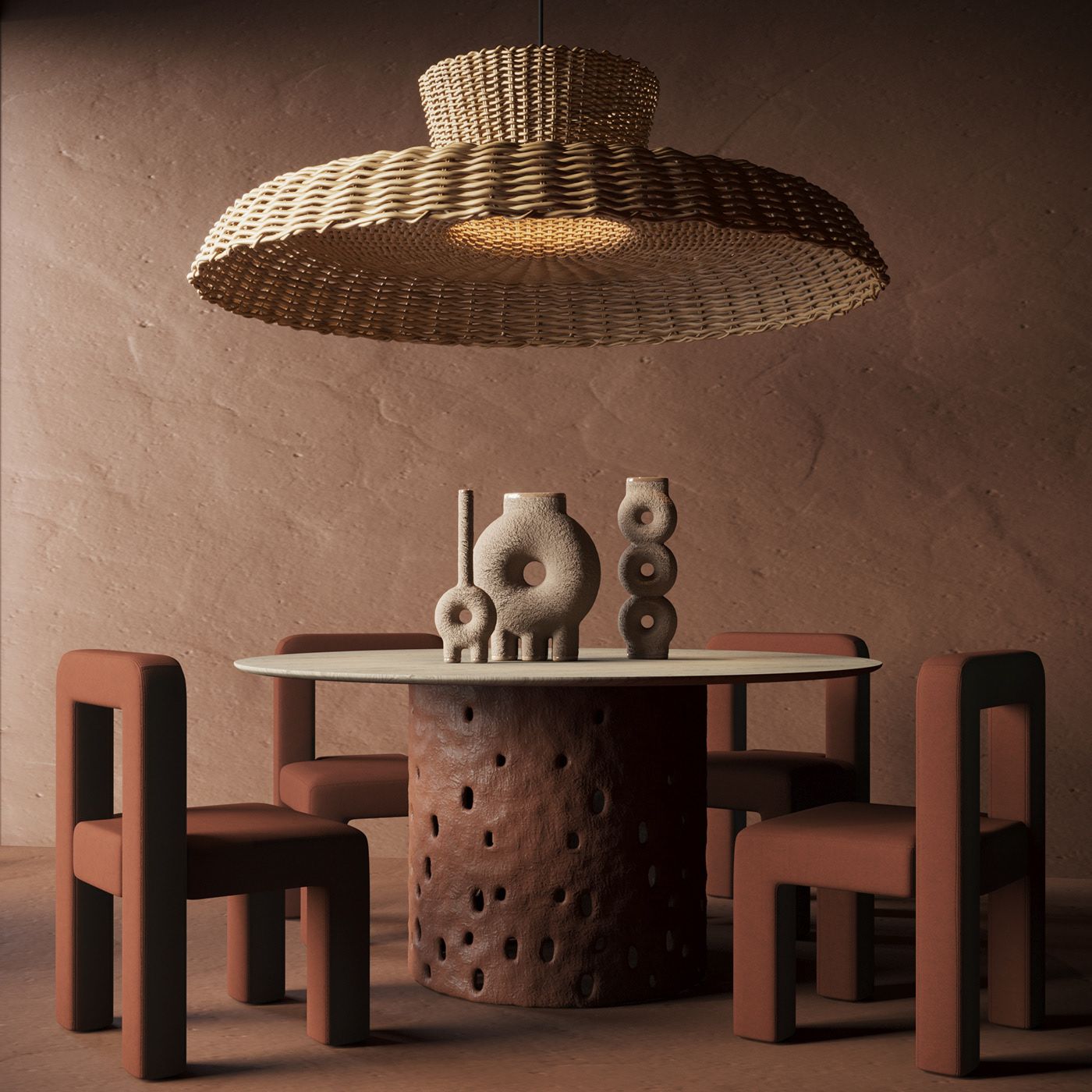 "Our objects are very minimalistic and primitive, yet they harness a wild essence in their presence. The strong spirit of the land is always at their core."

Victoria Yakusha
FAINA is a brand of collectible furniture, lighting, and décor offering contemporary design from the cultural heart of Ukraine. Founded by Ukrainian architect, designer, and artist Victoria Yakusha in 2014 following the Revolution of Dignity, the brand is driven by their mission to pass on Ukrainian history and cultural heritage.
"I wanted to create something that represents Ukraine, our culture, our spirit," she shares.
As an architect, Yakusha established 'live minimalism', a direction in design that marries minimalism with environmental responsibility in an embodiment of the contact between living environments and materials that breathe and exude energy. "It's about existing in co-authorship with nature, leaving a cultural footprint rather than an environmental one," she explains.
We joined FAINA ahead of ICFF 2023, where they will be exhibiting May 21st through 23rd at the Jacob K. Javits Center in New York City, to discuss heritage, sustainability, and what's coming next from FAINA.
Did you always see yourself in design and architecture? I'd love to learn more about your background.
I had to choose architecture consciously. When I was a child, I used to think that I couldn't do anything apart from drawing­; my schoolteachers scolded me for my math but then complimented me at the Art School.
And then I found myself in preparatory courses surrounded by the offspring of eminent architects and the children of the deans and college teachers. They seemed to be so clever— they knew how to hold a pencil properly, understood all the architectural styles—they were stars! I felt like a stranger sitting like a little gray mouse at the back of the classroom and kept drawing.
Teachers and fellow students would come up to me and look at my work. They gave some advice, made corrections. Eventually they started showing approval, admiration. And one fine day I realized that my drawing is more than 'regular'—I remember that my teacher called me "the main competitor" before the exam. I understood then that I was stronger than I had thought.
And you went on to continue your studies.
Studying in France later was mind-blowing—I remember a time when four families came to our studio and told us that they wanted to live in one house on a single plot. And everyone had their own wishes: someone needed an acrobatic gym, another wanted a library three meters long, and one of the families had four children.
My house project was like a Rubik's Cube. At the exam, I defended it so diligently in my broken French-English that, as a result, I received the highest mark among foreign students.
It turned out that the clients were fictitious… This is how they teach in Strasbourg.
What is the company ethos behind FAINA?
To create, promote, and preserve the Ukrainian cultural and artistic heritage through the use of living materials—clay, wood, willow vine, ZTISTA—that imbue our design pieces with an animistic presence, a living energy and soul.
The brand's collections have deep roots in Ukrainian cultural heritage. Through primitive designs, FAINA evokes ancient symbols, revives ancestral crafts, and passes on the history of its land—the crucial elements of the brand's 'live design' philosophy. We bridge artisanal craftsmanship to modern design in a modern, sustainable manner. Each design piece is endowed with a living soul in the process of its hand-crafted creation by Ukrainian artisans.
Our objects are very minimalistic and primitive, yet they harness a wild essence in their presence. The strong spirit of the land is always at their core.
You mention living materials. Can you share more about the materials you use in your collections? 
Following a sustainable approach, FAINA makes products mostly for order. And the use of living materials and textures allow us to see, touch, breath, feel, and be one with nature. We use vibrant clay, lush willow, wild wood, handwoven wool, and organic ZTISTA.
Can you explain to us what ZTISTA is?
ZTISTA is FAINA's signature material. Ukrainian for "made of dough", the material is a blend of cellulose, clay, flax fiber, wood chips, and biopolymer. It was created by our team in the re-thinking of a sustainable design approach using organic, circular materials.
Thanks to the mixing of ecological ingredients in appropriate proportions, we got a strong ecological material for forming the volume of objects. In terms of consistency, ZTISTA is like potter's clay or dough, but due to the addition of cellulose, it has lump-like particles. Pleasant to the touch, soft, non-toxic, and it doesn't have a strong smell or fragrances. From the beginning of production to the final result, the material goes through several stages in the transition from a soft to a solid state. We apply the material in layers of 5 mm many times, and each layer needs to dry. In the end, the material is a stable, solid independent object.
We are excited for FAINA to join us at ICFF. What have you been working on ahead of the Fair?
We have launched two new collections: the new MOVCHUN furniture collection and the new SLUHACH lightening collection.
The MOVCHUN furniture collection reveals the interaction between human beings and nature through contemplation. MOVCHUN is derived from Ukrainian for 'keep silence', as silence is what slows you down to feel the connection between yourself and the Earth. The collections seeks to keep you grounded with their heavy shapes.
The collection is made of a mix of special ecological and natural materials. There is a symphony of layers, made of different technological compositions. The base is a frame crafted from organic high quality paper fiber that is covered by our signature material, ZTISTA. Then the soft filler is made from hévea latex—hévea is actually a wood, and its biochemical composition has a natural antiseptic effect that remains the same even after processing. The last layer is a soft textile that offers you a choice between two materials: The first is a 100% natural fabric from hemp, and the second is natural cotton made from recycled t-shirts.
The other new collection, SLUHACH, is a unique ecological textile lightning collection. Derived from Ukrainian "to listen", the shape of the lamps resembles locators that "listen" to the surrounding world. They are made of 100% natural muslin, a water resistant, quick-drying, and lightweight cotton that is very safe for the environment.
The idea was to create something to listen to you—your dreams and desires. That's why the shapes of the floor lamps provide you with an ensemble of attentive creatures that feel with their whole bodies.
You are an ambassador of Ukrainian primitivist and artisan design. How would you describe Ukrainian design?
I would describe Ukrainian design as one with more naivety, directness, literality, a bit of romanticism, and lots of courage. It is design guided not just by functionality, but also by dreams, emotions, and feelings. We are not as minimalist as the Scandinavians and not as emotional as the Italians—I would say that we are in the middle. And, in fact, we sit between them geographically.
You also speak about creating heritage through your work, passing on ideas and objects that gain power, meaning, and value over time and impact the culture of future generations.
I always ask myself, what do I want to leave behind? What do I want people, children, and my country to have when I'm gone? I create heritage: spaces, products, and content. And I know that everything I do and every object or product I create will definitely leave a mark on this world, even if only environmentally, and I'm fully responsible for what it will be like. I suggest you ask yourself: what will you preserve and multiply throughout your life? What will you leave behind when you're gone? Take my word for it: once you ask yourself that, you will find meaning worth investing your resources into.
With FAINA, we respect Ukrainian handicrafts and artisans, and our approach is to collaborate with them by implementing traditional methods into a contemporary version of mindful living.
And with our emphasis on using 100% natural, high-quality materials from the best sustainable and ecological suppliers across the world, our work connects everyone who is related to the brand. In supporting FAINA, by choosing our product, you are promoting a sustainable way of consumption.
Meet FAINA in person starting tomorrow at ICFF Booth 1206. Registration is available on-site or through this link: Register now for ICFF.