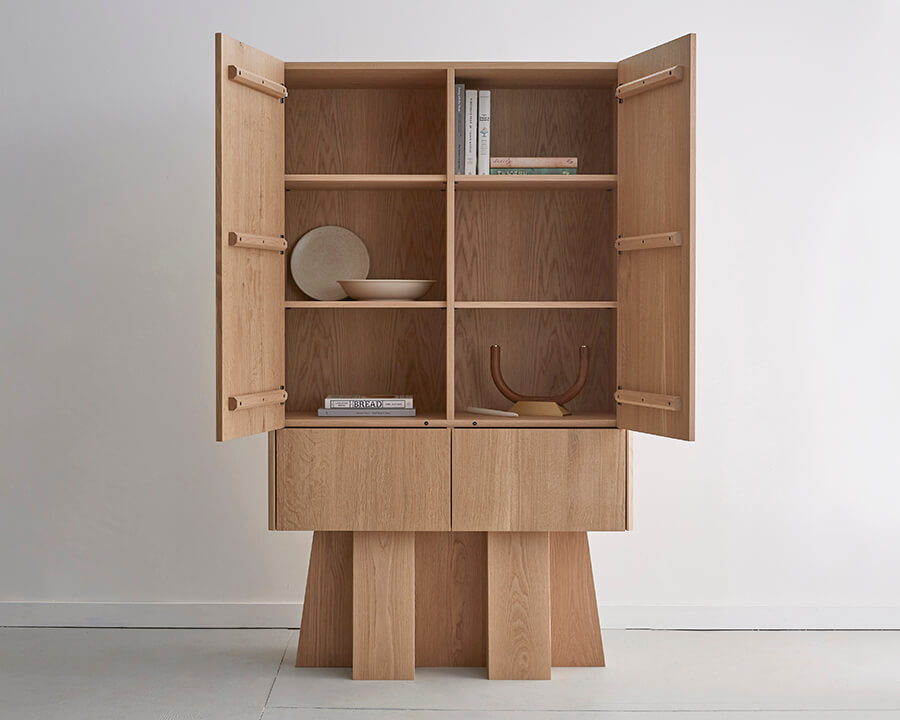 Bowen Liu Studio: Cultural Craft
The award-winning furniture design and research studio Bowen Liu creates artistic furniture collections inspired by life experiences immersed with local cultures. Based in a waterfront studio in Brooklyn, NY and founded by Beijing native Bowen Liu, the studio produces its own collections of contemporary furnishings and objects in addition to providing thoughtful furniture design services for other brands and manufacturers around the world.
"When I was a kid, my dad and I used to build household electronics from scratch for fun," says Liu. "I watched my grandpa making all kinds of nets by himself. He would bring me to catch wild rabbits and birds with him in the summer. I have always enjoyed these hands-on and fun life activities. When going to the college and later graduate school, I chose to pursue furniture design. During my studies and while practicing fine woodworking skills, I appreciated the craft more and more."
Bowen Liu graduated from Beijing Forestry University in 2013 and officially launched Bowen Liu Studio just four years later after attending further study to earn her MFA in furniture design from Rochester Institute of Technology, where she studied abroad in Copenhagen, Denmark and gained an extraordinary appreciation for cultures and history.
"Launching Bowen Liu Studio was to continue creating our original designs with independency and control," says Liu. "I am influenced by multi-cultures, as I grew up in China, studied in the United States for graduate school, as well as in Copenhagen for a short period. My designs are inspired by my personal life experiences, such as cultural experiences, interactions with people, and activities. It is important for me to have the freedom to express myself though design."
All Bowen Liu Studio furniture and objects are designed entirely by Bowen Liu herself and manufactured in the United States. Some products are made in-house in the Brooklyn studio and others are manufactured by trusted manufactures who share the same values as Bowen Liu Studio. Furniture offerings range from platform beds to credenzas, benches, chairs, tables, and bar carts while object's range from serving boards to candelabras.
The Helle Collection is Bowen Liu Studio's new collection, inspired by Liu's many sailing trips to the Long Island Sound over the past few years. The collection is named after Hell Gate Bridge in the East River of New York. It celebrates the unique view of the bridge seeing from the water.
"The cutting-edge eco-friendly material is made from wasted mangos in Rotterdam, Netherlands," says Liu. When first discovered Fruitleather, I reached out to founders Koen Meerkerk and Hugo de Boon with interest in incorporating their eco-friendly material into the collection. Fruitleather decided to sponsor the material as a collaboration pushing new boundaries in both fields."
One of the most distinctive aspects of Bowen Liu designs are the level of craftsmanship and quality and the dedication that the studio has towards sustainability and positive environmental practices.
"We care about our planet," says Liu. "We insist on developing thoughtful and beautiful designs that are made properly because we believe that timeless designs both visually and functionally last for a long time. In this sense, people will buy less new furniture and less replacements, saving energy and materials longterm. In the meantime, we are open to experimenting with new technologies and eco-friendly materials in our designs."