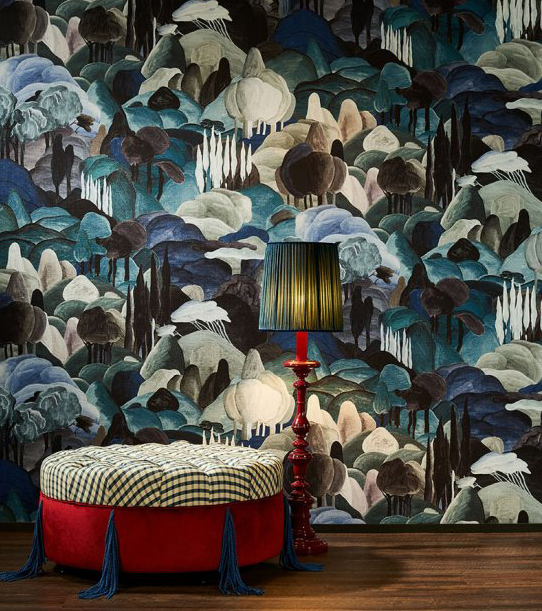 Brand Spotlight
Arte: Hanging Art
Arte wall coverings is a manufacturer of sophisticated wall coverings, found in 1981 by the Desart family. The brand designs residential and commercial wall coverings that now adorn walls in over 80 countries worldwide. Headquartered in Zonhoven, Belgium, with corporate showrooms in Paris, Culemborg, London, and Los Angeles, Arte is known for their trendsetting patterns and materiality. No two collections are alike and the brand is continuously stepping outside their comfort zone to bring designers limitless options to suit any interior project.
"We want to bring our passion for beautiful interiors into our wallcovering collections everyday," says Philippe Desart, managing director at Arte. "We tray to give an added value by suing design and tactility. This is why craftsmanship, aesthetics, and quality are top priorities in everything we do."
About half of Arte's products are manufactured in-house by way of environmentally-friendly processes, while the brand's external partners apply these same quality and sustainability norms. The brand's in-house design team create several new collections every year in innovative patterns, colors, and materials, setting the standard for high-quality wall covering production.
"Research and development are at the heart of our company," says Philippe. "For this season, we have asked our designers to play on color, design, and texture. They have created 8 very beautiful but very different collections in 51 designs. The new collections are a world of opposites—a mix of form and soft materials and fresh colors."
While the company launches new collections twice a year, the process of developing these collections takes far longer than 6 months.
"Some collections take less time than others, but it depends on the product of course," says Philippe. "If we are going to do an embossed wall covering, we first have to make the original artwork and then we have to interpret it in the right way. Or, if we are going to work with unique materials we have to see if we can translate them to the wall. There's a lot of different things happening before a collection is launched which is why it takes between nine and 24 months to fully launch a collection."
When it comes to their massive selection of wall coverings, Arte feels strongly that every space, whether it's a commercial interior, a residential project, or a hotel, has the possibility for a beautiful statement wall covering.
"We have a love and a passion for beautiful interiors and we want to be a part of those interiors with our projects," says Philippe. "People play with different materials and textures in their interiors, so why wouldn't we do the same with our products? If we were to always create wall coverings with the same materials in a different pattern, it wouldn't be so surprising. I think if you can always surprise people, people will be happy to see what you're doing."