Oasis, by Float Studio

ICFF is high energy, provocative, and saturated in more ways than one. We aren't looking to add to the stimulation – our intention for the space is to provide an oasis. We designed a space where visitors can connect to nature and recharge: a quiet place to catch your breath or to have a more intimate, unbranded conversation.
The design itself is simple, with a heavy emphasis on greenery, dotting a topography that mimics natural landscapes. It's an environment that feels separate but welcoming with plenty of seating, including curtained pods that allow visitors to recharge both their phones with accessible ports and their mind via guided-meditation headphones.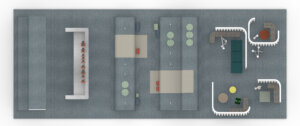 Float Design Studio Team Members:
Brad Sherman, Partner
Nina Etnier, Partner
Sophia Chen, Designer